Panuga Riou brings Polish form to Almere
England's up and coming women's singles player, Panuga Riou created the first real upset at the 2014 Yonex Dutch Open as she stormed to a round one victory over 4th seed Sashina Vignes Waran of France.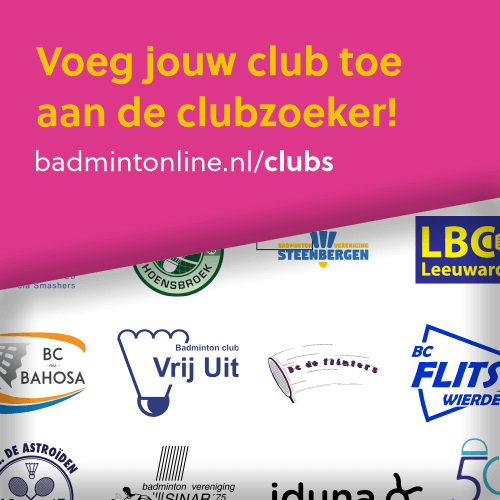 Maak kennis met Dyon van Wijlick!
The young English athlete, recent winner of the Polish International, looked in sparkling form after a summer of hard training and showed great mental strength to come back from a first set loss to defeat the experienced French number 1 in 4 games. "I have been in good form this season which is due to a lot of very hard work during the summer and I am feeling confident on court and really enjoying the game."
When asked about the new scoring system Riou was quick to point out that the system clearly suits her attacking style of play which has been borne out by her recent results.
"People keep telling me the new experimental system would suit my game and I do like it but only time will tell if it can work long term."
Karin Schnaase is another that appears to be have settled into the experimental system well as she came through in four games against tricky Hong Kong opponent Ngan Yi Cheung.
"The more I play the system the more I like it but there is a strong emphasis on being ready from the second you step on the court and I have been working on that pre match routine in order to be ready as soon as the game starts."
Speaking of her opening round match Schnaase was happy just to get round one out of the way. "When I looked at the draw and saw Asian opposition I kind of half cried but you have to go and beat what is in front of you and I was happy with the way I played and handled the pressure."
The second major upset of the first round came in the evening session as Ukrainian qualifier Liza Zharka took down reigning European Junior Champion Stefani Stoeva in five games. The Bulgarian clearly looking out of form after retiring at her home Bulgarian international last week.
Russians destroy home hopes of Arends and Piek
Home hopefuls for the mixed doubles title Jacco Arends and Selena Piek were dealt a hard dose of reality as they came down to earth with a bang at the hands of Russian duo Yartsev and Kosetskaya. The improving Russians came out the right side of 11-10 in the first and fourth games to end the home title hopes of the number 3 seeds.
There was some Dutch delight as Jorrit De Ruiter and Samantha Barning came through a tricky opening round tie against Nottingham and Lim of England and Jelle Maas and Iris Tabeling made sure there was adequate Dutch representation in round two with a hard end victory over Beck and Kattenbeck of Germany.
Leverdez puts bad Czech International performance behind him
French number 1 Brice Leverdez came to Almere with one thing in mind, to put the bad performance from the Czech International behind him. Leverdez lost in the opening round in Prague and travelled to the Dutch Open to find some form ahead of a busy Super Series schedule coming up.
Leverdez got off to a slow start losing the opening game to Azizan of Indonesia before finding his feet with the experimental scoring system to cruise home in four games. The menís singles is the only event with two rounds on day 1 and Leverdez followed up his morning victory with an easy three game second round win over Rhys Walker of England.
"I had a terrible performance at the Czech international so it was important for me to come here and get some games under my belt and gets some confidence. After a slow start I found a good rhythm and I am happier now I am in the third round."
Elsewhere in the men's singles Petr Koukal fell to training partner Nick Fransman while number 8 seed Zavadsky of Ukraine was ousted by Indonesian Mustofa in four games.
QR-code voor dit artikel
Reacties
Recente artikelen