Chris Adcock responds to criticism on National Centre
Olympisch badmintonner Chris Adcock schrijft in een lange tweet hoe hij kijkt naar de kritiek op de nationale selectie van Badminton Engeland. En dat doet hij, knap genoeg, zonder ook maar een keer de naam 'Jenny Wallwork' te gebruiken.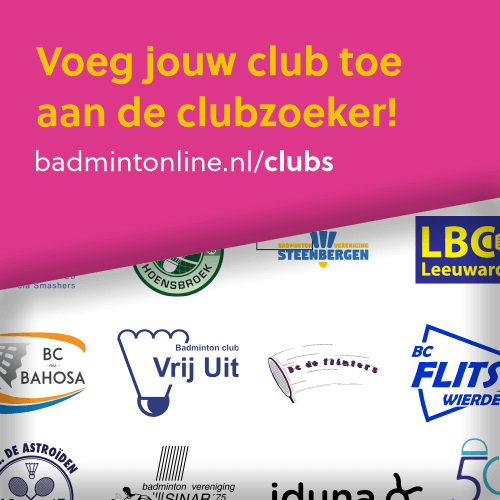 It seems like at the minute a lot of people and ex-players are wanting to have there say about the current system/players at the National Centre. Here are a few points or comments that I would like say about them having read them all carefully and fairly.
Firstly, to the people who are criticising the level of the players at Milton Keynes I feel that it is completely unfair. We currently have one of the youngest squads in the badminton world, with only two players over the age of 26 and most players under the age of 25, and I would without a doubt say that many of these players have the capabilities of performing to a world class level and winning medals in the future. Of course this will not be easy but together with hard work and working along side each other and the top level coaches and system/management that we have in place right now can be done. This will obviously take time. If you look at Denmark right now, one of the leading badminton nations in the world many of there performing and medal players are near the age or over the age of 30. I fully believe that we are on track to do similar.
Of course the ideal situation, would be for all these young players to have older/more experienced players to look up to/ learn from however this hasn't been the case as there is a generation missing from about the age of 27-34. There were many talented players in that age bracket that spring to mind, and in my opinion the reason why we have this "missing generation" is down to the bad management of those players at the time and the short amount of access they had with the performing medal players at the time, which I myself experienced. This bad management of these players and system over the last 5-6 years is the failure that our current system is still trying to recover from, and in my opinion is doing good job.
I also believe that of course some people are happy to say negative comments and i understand that everyone will have an opinion, however i don't understand how they think they are helping. If this is a sport that they love as much as I would think and as much as i do, their criticism should be at the very least constructive and if they felt so strongly about their feelings should be willing to help the situation by helping these young players achieve in any way they can and not just sit back and then take every opportunity they can to slate the program.
I have been at the National Centre 5 years now and since I have been at Milton Keynes I can honestly say that the atmosphere between players, the team work ethic, the system, and the coaches have never been stronger. The more experienced players are more than happy and to spend time/train and help the less experienced players and already only this week we have seen the result of this.
In conclusion I would like to say that badminton as a sport gets more competitive around the world every year, and is 100% a higher level and harder to perform at and tougher to win medals at than ever before, obviously not taking anything away from all our great success in the past. However I would ask for us all not to live in that past and look at helping the future performance of our Nation. We have a very young squad that needs time to develop and blossom. We have the system, the players, the staff and the backing of UK sport and Sport England so all I would ask of you guys is to give all the players a little time to get to where we all want the sport in our country to get to and then hopefully in a few years down the line we can be celebrating the kind of success that Denmark had at the 2012 Olympic Games in London.
Regards
Chris Adcock
QR-code voor dit artikel
Reacties
Recente artikelen