Cornflakes met water: het verhaal van Mark Phelan
Als je regelmatig Badminton Europe livestreams kijkt, dan heb je vast de commentator / interviewer Mark Phelan weleens gezien. Hij wiens hartslag stijgt bij het schrijven en praten over Selena Piek en Soraya de Visch Eijbergen. Dit is zijn verhaal.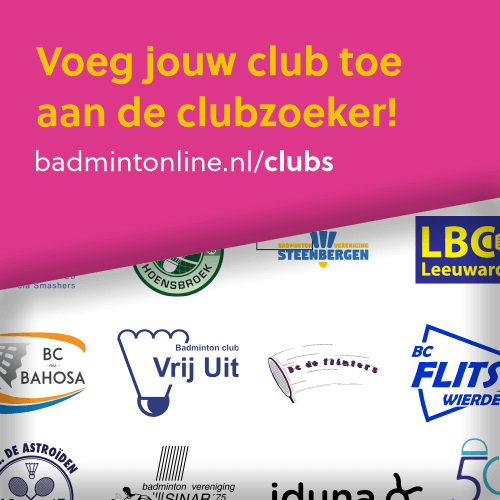 Jij het nieuws, wij een tikkie!
When Mark Phelan finally called time in 2010 on the struggle to keep his Maptech surveying business afloat in the depths of the recession, he was mentally and financially worn out, writes Brian Byrne. He was ill, and his confidence was shot.
"I'd gone through all the stuff around a business failing. We could have struggled on, but the margins were gone and costs weren't. I had become a debt collector trying to get paid what we were owed and I hated that-"
Mark resolved that in the future he was only going to work at something he loved doing. So to get back on his feet he joined together his two passions, photography and badminton. "I had always been interested in photography. In fact, I spent part of my confirmation money on a camera, and when I became a surveyor I always had a camera with me, so I had an eye for a picture."
He had also played badminton for years, a sport which beyond Ireland has a very large global professional stage. At competitions, he'd spent off-court time photographing the action, with results that impressed a lot of people. "I needed to do something completely different, so I approached Badminton Europe and offered them a special trial deal to work as their photographer on the professional tournament circuits for six months."
It was a deal somebody in the organisation thought worth doing. Mark began travelling with the international professional players, doing his photographic thing and impressing Badminton Europe to the point where they offered him a full-time job. "I decided not to take it, but instead opted to work as a contractor for the organisation. Now I travel with them for 16 weeks of the year, shooting pictures in countries from Finland to France to Switzerland to Russia and everywhere in between that there's a tournament circuit."
In addition to providing pictures for Badminton Europe's magazine and website, he now writes many of the articles on those outlets. These include interviews with the stars of the game. "On circuit we all travel together, stay in the same hotels, so I've gotten very close to the leading players."
Increasingly, individual national federations have asked him to provide pictures of their team players, which as a freelance contractor means he has been able to add another income stream to his work. And a sidebar to spending weeks on end with the players has triggered yet another photographic enterprise back home.
"Summer is off-season for the professional tournaments, and I decided I needed something else to do apart from spending time with my family in Kilcullen. On circuit, in the evenings, I often take pictures for players that they can use in their PR, on their websites and so on. I've always been interested in faces and expressions, so some of these sessions resulted in good portraits. I wondered if I could do this back home?"
Recalling the high charges when taking his own children to professional portrait studios while they were growing up, he decided to try another tack. "Instead of setting up a studio business, with its attendant overheads, I decided to see if I could bring a studio to clients' homes and businesses, and provide a service which everyone could afford."
Mark invested in a high-end portable studio system which fits in three bags in the boot of his car, and can be set up on site in around ten minutes. "The advantage is that the clients I'm doing the work for are in their own surroundings, in their comfort zone. It makes it easier for them in every respect." It also gives him the opportunity to assess what they actually want in a family portrait. "It's important that I listen, that I get to provide them with what they expect, rather than what I think they should have. Every photographer likes to take certain kinds of pictures, their own style. But that's not necessarily what the client needs."
His service uses a business model that turns upside-down the traditional professional studio enterprise. A half-hour shoot with a couple of subjects will provide customers with a number of digital images of very high professional standard, from which they can print what they want themselves, in whatever format.
"That will cost them just €50, a little more if I have to travel distances. If they want me to provide framed prints or photo-books, reasonable fees for these can be negotiated. As far as I'm concerned, the days of high fees for family portraits and the photographer holding onto all rights are gone."
In an era when digital photography is ubiquitous and every smartphone owner takes hundreds of pictures a year, it has been suggested that the time of the professional photographer is gone. Mark doesn't believe so. "I'm not selling a photograph. I'm selling a skill in doing high-quality photography that brings out the character of people as they are. And I'm bringing that skill into their own homes or their places of business, so they don't have to lose time or get involved with the stress of a trip to a studio."
For Mark himself, a - albeit forced - quantum shift in career from a technical surveying business owner to sports photojournalist and portrait photographer has made a big difference to his life. "In a way, starting out on this journey was the beginning of a therapy which I badly needed at a very difficult time. Now, though my personal life has also changed in many ways, my confidence is back, and I'm doing something that I love doing."
He is still his own boss, which means that the crash which brought him close to despair hasn't killed his spirit of entrepreneurship. A competitive instinct reflected in his love of badminton probably also helped. Mark Phelan has been on a long journey in which he has managed to stay in his native Kilcullen and yet take an adventurous scenic route to recovery.
"It hasn't been easy," he says, recalling one occasion when his breakfast on a circuit in those first six months was cornflakes and water because he couldn't afford a carton of milk. "But I'm happy again. I'm now in a good picture myself."
QR-code voor dit artikel
Reacties
Recente artikelen