Mark Caljouw en Alida Chen geselecteerd als Future Stars van Badminton Europe
The players to join the Player Development Plan Future Stars for the 2015-2016 season have been selected. With this programme, which supports a total of 25 players, Badminton Europe (BEC) supports the most promising young talented players in Europe.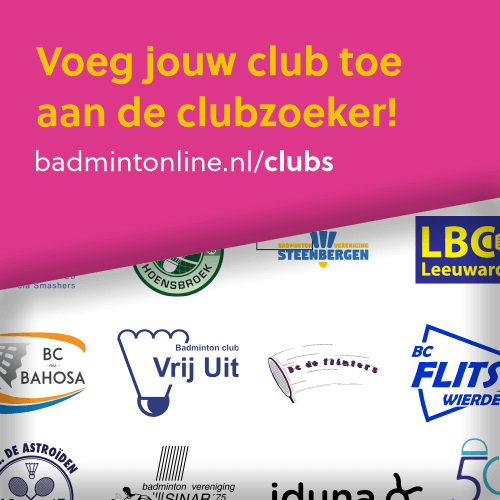 The idea is to help the players to get from junior to senior level. The players in this group will get individual support in the form of tournaments participation, training and coaching support.
The focus of the project is to help and guide the young players with their first three years in the senior circuit. This transition period is a very challenging period for many European junior players. The adaptation in the senior level is a tough process as the junior players are slowly moving away from their comfort zone, heading to a more competitive and higher level of play.
Badminton Europe wants to provide them with ample support so that they are able to compete in more tournaments which allow them to gain plenty of exposure in the start of their new journey as senior players. On top of that, providing these players with training and coaching support enables them to learn more from different coaches.
The players, who take part in this programme have to hand in their tournament plans so that we (Badminton Europe´s development team) can gauge and plan according to the needs of each player. By doing so, the players are free to continue their daily training programmes with the extra support from us. The players´ development and progress are our ultimate focus and the Future Stars programme works as a booster to these young talented European players.
"This is already the third year that we are running this project. We are very happy with the improvement of the players who are part of the Future Stars programme. Most of them moved up in the BWF world rankings which is the main goal of the project", says Jeroen van Dijk, BEC Manager.
For season 2015/2016, the selection is based on the results in the 2015 European U19 Championships for the new group of selected players. For the players who were selected in season 2013/ 2014 and/or 2014/2015 their positions in the world rankings as of 2 July 2015 was the key indicator to determine if they are reselected or not. For season 2015-2016, the decision was made to allow a maximum of one male and one female player per Member Association. The support of € 1.500 is allocated for the players who fulfill the criteria and this support lasts for one year.
Players in the Future Stars programme, season 2015-2016
Matthias Almer (Austria)
Marie Demy (Belgium)
Stefani Stoeva (Bulgaria)
Maja Pavlinic (Croatia)
Adam Mendrek (Czech Republic)
Anders Antonsen (Denmark)
Line Kjaersfeldt (Denmark)
Rhys walker (England)
Kristin Kuuba (Estonia)
Kalle Koljonen (Finland)
Delphine Lansac (France)
Toma Junior Popov (France)
Fabian Roth (Germany)
Yvonne Li (Germany)
Joshua Magee (Ireland)
Mark Caljouw (The Netherlands)
Alida Chen (The Netherlands)
Dragoslav Petrovic (Serbia)
Clara Azurmendi (Spain)
Luis Enrique Penalver (Spain)
Martina Repiska (Slovakia)
Matej Hlinican (Slovakia)
Morgan Lidman (Sweden)
Elin Svensson (Sweden)
Ronja Stern (Switzerland)
QR-code voor dit artikel
Reacties
Recente artikelen