New technical director of Dutch badminton federation has to be immune to stress
Badminton Nederland is a dynamic sports organization of the Netherlands. For the ongoing Olympic cycle is Badminton Nederland looking for a Technical Director.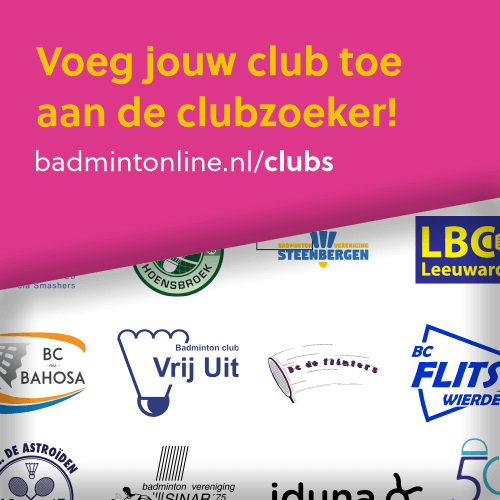 Primary job purpose
You lead a team of motivated national and international professionals. Furthermore you initiate, develop, formulate, implement and evaluate the sport technical policy, aimed at achieving objectives and establish this policy.
The current top badminton program should be continued, including for para-badminton, and preparing the path towards the Olympics Tokyo 2020. The development and recognition of talent and the realization of the new coaching education are other important objectives during this period.
Most important task responsibilities
a. realizes the top badminton program
b. leads the technical staff
c. takes care of the process for the realization of the investment plan for the period 2021 -2024
d. arranges all sort of matters for the athletes
e. initiates innovation f.e. new technologies and medical guidance
f. organizing talent recognition and development
g. represents interests of the top badminton organization
h. ensures completion and implementation of the new coaching education
Essential Requirements
You have years experience in a managerial position
You have experience in top sports and talent development
You have a track record in implementing policies
You connect and inspire people
You are a networker who easily can communicate with all stakeholders
You are thinking creative and can set priorities
You can make decisions
You are immune to stress
You have excellent communication skills
You have a 24/7 - mentality
Further
HBO/WO work and thinking level
Speaking and writing skills in English
Excellent written and oral skills
Working conditions
The job is 0,8 fte. Salary will be set according to qualifications and the CAO Sport (Collective Labour Agreement for the Sports Sector).
Recruitment procedure
If you think this job could be something for you, please send your application plus full curriculum vitae to Badminton Nederland Director Barbara Mura at sollicitatie@badminton.nl not later than the 31st of July 2018.
Information
For further information please contact Barbara Mura.
QR-code voor dit artikel
Reacties
Recente artikelen