Dutch Super Saturday
Dutch Open semi-finals day is always an exciting afternoon both on and off the courts. A full house of knowledgeable fans in an arena that suits the game has always added to the atmosphere and this year has been no exception.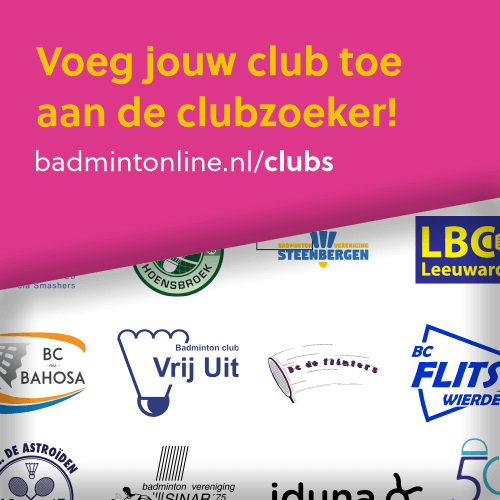 Maak kennis met Nikki Korving!
There is nothing better for the home fans than home success and this year the Dutch players have risen to the challenge with both De Ruiter/Barning and Muskens/Piek rising to the challenge and giving the fans what they wanted, a pair of home wins on Dutch Open Super Saturday.
Barning and De Ruiter take down Russian on home turf
The last time Samantha Barning and Jorrit De Ruiter crossed swords with Russians Durkin and Vislova was for a European medal in Kazan 6 months ago. That match was a tense affair with the Dutch winning on the Russians home patch. This time around the Dutch were taking the Russian veterans on, on their home court and the Dutch took little time in blowing the Russians away in three games.
"We got the better of the Russians for a European medal six months ago and today we did it again which was very sweet in from of our home supporters", said De Ruiter. "We played an almost flawless game and to be in the final of our home Grand Prix is what dreams are made of" said a happy Samantha Barning after the victory.
The Dutch will have to raise their game to another level in tomorrow's final as they face off against Indonesian second seeds Widianto and Dili. "Tomorrow is a new day and we know that to beat the Indonesians we will have to raise our game to yet another level but we will be ready for sure and hope the supporters get behind us", said De Ruiter.
Muskens and Piek queens of Dutch castle
There is no doubt that Eefje Muskens and Selena Piek deserved their top seeding at this year's Dutch Open but being top seeds and going out and justifying it is a feat in itself. Muskens and Piek did just that in today's semi-final by blowing away Haris and Imawan of Indonesia to advance to tomorrow's final.
A world class exhibition of serve and return of serve from the Dutch had the Indonesians on the back foot for most of the match and the roar from the crowd was deafening when the home darlings took the game in three.
"We have worked very hard on our serve and return recently and we are starting to see the fruits of that work coming through now in our matches" said Muskens.
"To win today along with Samantha and Jorrit earlier is great for Dutch badminton and we have to be pleased with the way we controlled the match from start to finish as we get used to the new scoring system" said Selena Piek.
Beiwen Zhang a class apart
American based Singaporian, Beiwen Zhang proved that she is almost a shoe in for the women's singles title with an exhibition of world class badminton in her victory over Maria Febe Kusumastuti of Indonesia.
The Indonesian did manage to take a set of the American which was more to do with some complacency from Zhang which is something that the 5 to 11 system will not let you away with. That was the first set the American dropped all week and she was not about to let it happen again as she cruised home in the fourth game to reach a deserved final.
There was no such luck for Fontaine Chapman as she came unstuck against the classy Pai Yu Po and likewise English number one Rajiv Ouseph looked out of sorts in a heavy defeat to Ajay Jayaram.
French fly under radar and into men's doubles final
Established French duo Labar and Careme reached the men's doubles final after literally flying under the radar all week on the outside courts. In the final match on semi-finals day the French wasted little time in ending the run of Philippine youngsters Escueta and Estanislao.
The French will now play Kurniwan and Putra after the Indonesians beat Bosch and Tien in one of the afternoon's epic matches. The Indonesians came through in five sets which was testament to the longevity of the new scoring system.
QR-code voor dit artikel
Reacties
Recente artikelen